There's a saying 'where your attention goes it grows'. The question is, where is your attention lately?
Each moment of each day our attention goes somewhere, and where it goes, it leaves a residual effect on you for better or for worse. If you move you attention to a scary film, your body will resonate with fear; if you watch a sad news story, your body will resonate with sadness; if you listen to an aggressive song with violent lyrics it will leave aggression and a comedy film, then lightness. The question is, are we being dumbed down by society?
These feelings have a measurable vibration to them as you can see in this scale chart here. It's easy to not notice how affected we are by the world around us and most of the time we are on autopilot reading tragic stories in the newspaper, engaging in negative gossip, or scrolling through other people's posts on our news feed on Facebook. A lot of this mainstream content is in the lower end of this chart.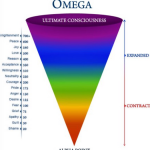 Recently my family attended a chanting night at the Hare Krishna centre in Sydney. Ok, don't freak out, we haven't converted and become part of some weird cult. The Hare Krishna centre is a beautiful place open to everyone, and each week they put on a night of chanting and dinner for $10 which is a bargain night out! For an hour you chant some elevating chants about God Consciousness and then usually engage in some inspiring conversation with the community while eating healthy food. We left the event feeling high and blissed out. When we got into the car to drive home, the radio immediately came on and the DJ's were inviting callers the ring in if they have a name similar to genitalia. "Hi I'm Dick Wood." "Hi my name is Mulva" and "Hi, I'm Eric Shun." Yeh, enthralling mainstream radio. Immediately we could feel our attention being pulled, almost 'dumbed down' and it was changing how we felt. We turned the radio off, but it was interesting to note how quickly our minds' attention shifted and also how we felt.
If we were to do an audit of our thoughts on a daily basis and then assess them we would most probably find they are not of a very high level. Think about what you thought about yesterday. Maybe pause and just right down some of the 50,000 thoughts that you had, remembering most of those thoughts were influenced by the place that your mind had been pulled into like the media, a Facebook post, or a conversation you were engaged in, ie. other people's thoughts.
So the question is, how often did we think about God, the Divine, our Higher Self, Egolessness or Pure Love? Or…how often did we NOT think? Did we just sit in Being? Did we sit in Stillness? Did we spend time immersing in no thought and feeling lightness? There is a natural inclination for the mind to be drawn to the lowest common denominator. Joseph Conrad once wrote in his book Heart of Darkness that we have a 'fascination with the abomination'. I've noticed that throughout my life my mind tends to gravitate towards fear and worry. I have to practice moving it higher. It's not a natural tendency for it to do this. It's not like I wake up and voila, my mind is on The Higher Self or spirituality.
This is our work and there are ways to avoid the mind being dumbed down.
Avoid or reduce watching or reading the daily news

Avoid gossip and negative talk about people

Minimise social media

Be selective about the songs that you listen to

Be mindful of the podcasts or radio that you listen to

Pause each day, re-adjust your thinking away from negativity

Meditate on being light

Read spiritual texts

Attend satsang or spiritual talks

Receive regular coaching or guidance
This is why I created the Zen Academy For Transformational Leadership, to support people to elevate their mind regularly from the menial daily thought tracks and come together as a community and engage in more uplifting discussions together. This takes place through fortnightly calls and a private Facebook group. We have people join us from all over the world come onto these live sessions.
A beautiful shift takes place when we move our awareness to the Divine, spirituality or the Higher Self…we feel lighter, joyful and love. The more we do this the more natural it becomes for the mind to go there. What a gorgeous way to spend more of our day in that space!
To find out more about joining this global community click here.