The World's First 21 Day Deep Dive Meditation Program Giving You A Powerful Experience In Just 20 Minutes!
You may think you can't meditate or have even tried to meditate, but just couldn't seem to 'get there' with it, but all that will change with this program.
It is Fast, Deep and Blissful. Using an ancient meditation sound, you will find it easy and effective. It's also why it is changing lives all over the world!
This course is for you if you are struggling the with pressures of daily life, lockdowns, past trauma, addictions, anxiety, body image, social media, family conflicts, and well… just life itself!
From hotshot CEOs to world-class athletes to your next-door neighbor, millions of people agree that meditation is simply awesome. People like Lady Gaga, Hugh Jackman, Katie Perry, Ellen DeGeneres, Lebron James, Oprah ALL MEDITATE. And for a very good reason…it works and it makes their life SOOO much better!
Not only does it help them feel better, think more clearly and have less stress in their life, but it's scientifically proven to leave you feeling happier and healthier!
But the problem is…
Most people (possibly even you) may think that it's hard or that you won't be able to do it. Well, you're about to find out that this is not the case at all.
What if you could learn from a world meditation expert how to meditate in just 20 minutes a day?
Some of the reasons why many people don't meditate is:
- they think they wont be able to quieten their mind
- they don't think they could sit still long enough
- they feel they don't have time
- they are unsure of the benefits
This is all totally understandable however they can all be resolved with the right meditation method.
What Makes An Effective Meditation Technique?
1. It needs to be quick. Did you know that you have over 72 segments of 20 minutes in your day? We understand that you have many commitments in your day so to fit in a meditation practice it needs to give you results fast! Yes we are talking just 20 minutes!
2. It needs to give you a deep experience. To keep you going back for more you will want to feel something in your meditation. Without a deep experience, you won't have a good meditation.
3. It needs to be blissful. Some meditations can be very uncomfortable and require long hours of concentration. To keep coming back to your meditation you actually want to feel good in it.
That's why we are so excited about this meditation. This is a world's first teenage meditation program that has all three of these elements in it!
The Faster Deeper Bliss program is a breakthrough video-based online program that will enable rapid results in minimal time.
Start enjoying more Joy, Love and Passion the VERY moment you take the first step!
It's called Faster Deeper Bliss and here's how it works.....
You embed what "feels" like a random vibration into your mind as a way for you to send higher frequency vibrations directly to your subconscious - calming your mind like never before....
S0 you get to experience more Being, creating stillness within, and peace without.
It's an Inner and Outer solution at the same time. You are able to experience faster, deeper, bliss in real time...and it's all emanating from YOU.
The Faster Deeper Bliss meditation program will have you feeling far more connected, relaxed and efficient in life. Whether it is ticking off everything on your to-do list, becoming super laser focused, or attracting specific opportunities, clients or abundance in your life.
Experience maximum growth with minimal effort....AND in the shortest possible amount of time invested.
Here's Exactly What You'll Get
So You Can See How Amazingly Easy It Will Be To Start Experiencing An Infinitely Calmer And More Energetic Life With Faster Deeper Bliss
DAILY GUIDANCE EVERY DAY FROM ME
I will be there in front of you each day for 21 days gently assisting you with your meditation. I'll offer many tips on where, when and how to meditate. I'll lead you into your meditation, I'll be there during your meditation and I'll lead you out of your meditation. I'll be your support to pick you up if you lose your way. AND I share with you keys and tactics to help take your life to that next level you've always wanted to achieve.
YOUR POWERFUL STILLNESS VIBRATION
This is your sound that will sync your mind into the deep stillness behind your thoughts. Your mind is constantly moving from thought to thought in beta brainwaves. Your sound will sync your mind into deep meditative delta brainwave states where stillness is.
ACCESS TO ALL VIDEOS ON COMPUTER, TABLET AND SMART PHONE
Stillness on the go. You'll be able to take your Faster Deeper Bliss program with you. You can access it on all forms of technology.
The companion guide will complement your sessions - you'll be able to take notes, capture insights and  set intentions.
You will have ongoing unlimited access to your meditation videos, companion guide and bonuses. These will always be available to you where ever you are. No need to worry if you miss a step here or there, you will always be able to cath up and re-watch them.
A MEDITATION TECHNIQUE FOR LIFE
Your Faster Deeper Bliss meditation technique is yours to use for LIFE. After 21 Steps you WILL be a meditation expert and able to meditate on your own with your potent stillness vibration. All you need is somewhere you can sit and close your eyes. SIMPLE!
FREE access to LIVE weekly group meditations on Zoom
Join your meditation guide Tom Cronin and his global community of meditators on these live Zoom calls each week. In these calls, you will be meditating together in a powerful deep experience and receive guidance and support to keep your meditation practice on track.
Access to the GLOBAL tribe of meditators on FACEBOOK
Join Tom and his students from all over the world in this wonderful conscious group of like-minded beings. This group will help you stay elevated and connected during these unsettling times as members share books, podcasts, insights, tips, and techniques.
Meet your meditation guide..
Why would a high-flying wall-street banker leave all the fame and money for such an incredibly simple concept such as stillness? Yet, that's what Tom Cronin did after spending 26 years as a broker in finance trading inflation swaps and bonds for the big banks. The stress at his job brought him to the point where one day he woke up and thought he was dying.
That's when he decided to turn to meditation for help.
Soon after that incident, Meditation led Tom into the deep, transformative world of stillness.
The experience was too valuable for him to not to share with the world. And that's what he did. He started teaching people what he found out and as a result has been featured on national TV in Australia, The Sydney Morning Herald, Huffington Post, Vogue magazine, Conde Nast traveller, Qantas traveller, NineMSN, The Sunday Telegraph and countless blog sites.
He also founded The Stillness Project, a global movement to help people reduce stress, cultivate peace, and grow in abundance through… as you might have guessed… stillness.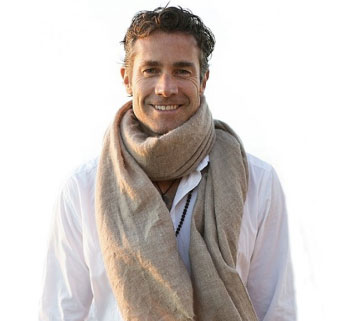 As seen on:
This is what people had to say about Tom's work
"Tom really knows his stuff and is 'one of a kind'! He teaches meditation in a unique, practical and really grounded way."
"Thank you Tom Cronin for your vast generosity in sharing your talents with us. I remain most grateful. Your insight is amazing!"
Man, first up a MASSIVE THANKYOU! I cant even begin to describe the positive effects the meditation you taught has had on me so far. It's really profound! I feel truly blessed to have been a part of this, you're a good soul dude and I cant thank you enough! Cheers!"
Course Information
This Is How Tom Cronin Structured The Program So You Get Fast, Lasting Results In The Shortest Time Possible
Because Your Time Is Precious
Your program is specifically structured so that you will get the most profound experience in the shortest time possible
Faster Deeper Bliss is one of the most practical courses you'll ever find with actual practice interspersed with teachings on the science and theory behind it. You'll be meditating — a little differently each day — for the entire 21 days. Here's how the course is laid out.
Phase 1 - THE SETUP (7 DAYS)
You'll be starting your meditation practice from Day 1. In this first phase consisting of the first 7 days, you'll learn how to prepare for your meditation and discover your stillness sound. The theory behind the stillness sound and how it works is interesting as you'll see here. You'll also learn what to do if you feel sleepy during your meditation and how to fit your meditation into your life.
Phase 2 - THE DEEPENING (7 DAYS)
Phase 2 starts with Tom sharing the best ways to deepen your experience. You'll learn the best time and place to meditate, how many of Tom's students got the best results and what poses you work best for you in different situations. Here, you'll also learn the distinct ways in which the morning and evening meditation works and what to do to achieve "moksha" with the power of stillness. During the deepening phase, you'll also experience a flood of new inspiration and creativity during your meditation, and Tom will guide you on how to deal with that.
Phase 3 - THE SHIFT (7 DAYS)
In this powerful phase, you'll learn advanced techniques to help you welcome and cope with the pure consciousness or "Turiya" that transcends the normal states of consciousness. You'll learn ways to get in touch with your cosmic consciousness and how to extend your practice beyond this initial 21 days into a lifelong habit using the 72/20 method.
This is a simple transformational practice that has guided thousands of people just like you to..
Increase your Happiness, swiftly and noticeably
Be more Loveable than you imagine possible and invite only the very best people into your life
Destroy the fears that have held you back from living your best life

3X your productivity, confidence and passion. 

Become a time billionaire, creating big beautiful gaps in your day to Be, and STILL achieve everything you need to do in your life.

Rewire the way you think so you can see infinite creative possibilities where before you only ever saw dead ends
Make a quantum leap in how you experience life and become the ultimate positive impact on YOUR world. 
This is what some of Tom's students had to say about his work:
"Learning to meditate with Tom has been amazing. It has changed my life!"

"Meditating with Tom has helped me achieve an amazing sense of calmness and clarity; with my loved ones, in my career and more importantly in my relationship with myself."
"Learning to meditate with Tom has been the single biggest catalyst for change in my life, period. I would never have thought that such a simple, effortless practice, could bring about such a huge change in all areas of my life."
Let's hear from some of Tom's students how
Faster Deeper Bliss has changed their life…
"My life all of a sudden became much calmer. It brings me back to myself..."
"It's something I use every day...I feel calm throughout the day, I feel more grounded....my day flows more smoothy"
Pretty Amazing Value, Isn't It?
AND Absolutely TRANSFORMATIONAL!
What does it mean for you to be able to overcome every challenging situation in life with ease and grace?
What would it be worth to you to be able to feel Joy and Happiness in your life, at WILL. No need for any external technology, music, apps, awkward lotus positions or chanting. 
This is meditation for the real world - Meditation that fits in with your job, your family responsibilities, deadlines and well, plenty of drama that life keeps dishing up.
That's why it is SO important to focus on getting you results, getting you BLISS. Faster. Deeper. This is a change 'for life' everybody can make.
No need to pay the $2000 I paid to learn this 20 years ago. It's not even $1000.
Register now and you get everything FOR ONLY $197 or 3 Payments of $66
Make today the first day of your best life. 
Go ahead and try this meditation for 30 days. Simply work with me through each step. You'll start to see positive changes in your life. IMMEDIATELY.
You'll see yourself calmer in those tough situations
You'll see yourself experiencing more joy and peace each day
You'll see yourself shedding years of anxiety, removing layers of stress and becoming a better version of you
AND most important.....you're going to see a more confident, happier, more loving version of you emerge. In a matter of hours, not months or years. That's how powerful this is. 
The Faster Deeper Bliss program is transformational, easy to use and is helping thousands of people just like you achieve remarkable results – in some instances outrageously blissful lives....
without any counselling

without any external technology confusing you

without any awkward sitting positions, chanting, travelling to India (you could, of course, if you want to) or listening to any whale song soundtracks to find peace (even though I do enjoy listening to whale songs myself!)

AND without ever having to worry about losing control. Because it's only human to face life with all its challenges
This may sound too good to be true. I assure you, it's REAL.
My own story is about how meditation turned my life around over 20 years ago; and since then I have taught thousands of people to sit in Stillness everyday.
I am now making it my MISSION to make meditation available to everyone all over the world.
I can only reach out. You have to grab my hand :-)
Heres what you get when you order:
The 21-Day Faster Deeper Bliss program for a powerful shift in almost every area of your life.
21 videos that take you through the Faster Deeper Bliss framework step-by-step.
Weekly LIVE meditation sessions on Zoom with your meditation coach, Tom Cronin
Award-winning customer support whenever you need help, so you know you are always taken care of.
An unconditional 30-day money-back guarantee, so you can be sure this course is the perfect fit for you with no risk.
Bonus practices: Tom's Sun Salutation Yoga Practice and Golden Heart Meditation.
ClickBank is the retailer of products on this site. CLICKBANK® is a registered trademark of Click Sales, Inc., a Delaware corporation located at 1444 S. Entertainment Ave., Suite 410 Boise, ID 83709, USA and used by permission. ClickBank's role as retailer does not constitute an endorsement, approval or review of these products or any claim, statement or opinion used in promotion of these products.