RETREATS
Join Tom Cronin on his life changing meditation retreats
About Tom's Meditation Retreats
Tom's meditation retreats are rejuvenating experiences that use an ancient sequence of yoga, breathwork and meditation to upgrade your mind, and body.
You will break free from limiting beliefs that have held you back, and get a clear vision of your life purpose through Tom's workshops and inspiring talks.
Yoga
The yoga sessions are suitable for all levels, and are a gentle, fluid sequence of postures. These energising and healing classes help the physical body to release built-up tension and channel the energy into the spine.
Breathwork
You will learn an ancient technique of breathwork called pranayama that is a powerful and deeply restorative practice to lead into your meditation. This will calm the mind, purify the body and instil deep rest in the body.
Meditation
Meditation is central to the retreat, and includes knowledge sharing to enhance your understanding and practice of meditation, and provides an opportunity to completely immerse yourself in stillness under guidance from Tom.
Location
The multi-day retreats are set in beautiful, serene locations so you feel soothed by the warm air and stillness of the location. You will be joining a conscious inspiring community and experience lots of nourishing rest to unwind.
Benefits of Meditation Retreats
You will experience a deep sense of rejuvenation that will upgrade your mind and body.
You will be amazed at how you achieve deep stillness through meditation with Tom's guidance. And how you can heal and recharge your body by using the powerful, ancient practice of Vedic 'rounding', a four limbed sequence of gentle yoga postures, breathing techniques, meditation and resting pose.
The benefits you will experience include:
Greater clarity

Awakened to your life purpose

Feeling of internal bliss, and greater love of self

Deep sense of rejuvenation

Feeling abundant, and empowered
Suitable for all levels
These retreats are suitable for all levels, whether you are new to meditation retreats, or you are an experienced meditator or yogi.
If you have never learnt how to dive deep in transcending meditation, as part of your retreat package, you will learn how to do this as part of your retreat experience.
Each day of the retreat will be made up of some gentle yoga, breathwork, meditation, powerful workshops, insightful talks, healing music, being a part of an inspiring group of people and in a location that will leave you in awe.
You will leave your retreat experience feeling clearer, lighter, wiser and filled with vitality and bliss.
Choose your location and dates below and book your next retreat experience now!
Kingscliff, NSW
When: April 11th-14th, 2024
Ubud, Bali
When: Sept 23-28, 2024
Tom Cronin
Tom Cronin is co-creator of The Portal movie and book, and is leading a global movement to inspire one billion people to meditate daily.
Tom discovered meditation in the early stages of his finance career, when the anxiety and chaos he was experiencing hit a crisis point. Meditation completely transformed his world, both personally and professionally.
Today Tom is passionate about reducing stress and chaos in people's lives, and his work in cultivating inner peace through meditation takes him around the world as a speaker, teacher and hosting meditation retreats.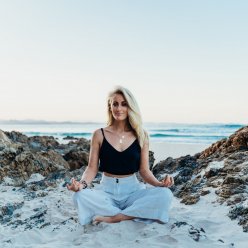 Joey Hurl
Joey Hurl is your co-host for the meditation retreat, and leads the yoga sessions.
Joey is an International Yoga Teacher and founder of Joga Wellness. She became a yoga teacher after experiencing the powerful change that it can create, and aims to help participants grow both physically and emotionally with every practice.
Joey is also passionate about addressing the mental health epidemic, and has supported Tom with the release of his documentary and book (The Portal), bringing the benefits of meditation and mindfulness to the world.
Testimonials from previous retreat attendees
10/10! I have had some spectacular and spiritual experiences in my 43 years on this planet but so far none has initiated the lasting, life enhancing, goose bumping change and connections like the retreat led by the awesome and inspirational Tom Cronin.

LR
10/10! This retreat was fantastic! Two beautiful souls facilitating a deeply personal experience of meditation and self-discovery, set in a gorgeous and tranquil space in the 'land of the Gods'. Thank you Tom and Soelae for a truly memorable experience reflecting light and abundance. Namaste.

DE
10/10! The retreat I attended was life-changing in the best possible way. Six days of bliss; full of learning, release and joy. I feel like both my mind and my body have been purified. Since coming home I am sleeping better, laughing more and worrying less. Attending Tom's meditation retreat was one of the best things I have ever done. Drop everything and dive in – and prepare to be amazed!

GM
9/10! I thought it was fantastic! I started feeling happier in my mind and my body, it was like weight had been lifted and I wasn't so bogged down anymore. My thoughts were clearer and more positive, I had gained a better perspective on my life. I simply just feel good about myself.

JM
Like to know more about Tom's life-changing meditation retreats?
"*" indicates required fields