BALI MEDITATION
Retreat
Register for 2023
Join Tom Cronin on a deeply nourishing 6 day / 5 night meditation retreat at the luxurious and healing Bagus Jati Resort in Ubud, Bali.
Register your interest for any future Bali retreats here
"10/10! I feel like both my mind and my body have been purified. Since coming home I am sleeping better, laughing more and worrying less. Attending a ONELife retreat was one of the best things I have ever done. Drop everything and dive in – and prepare to be amazed!" – GM
UPGRADE YOUR BODY AND MIND
On this retreat you will experience a rejuvenation and rebalance that will upgrade your mind & body. You will be amazed at how, with Tom and Joey's guidance, you will go deep into meditative stillness. You will also be in awe of how you can heal and recharge your body by using the powerful ancient practice of Vedic 'rounding' (a four limbed sequence of some gentle yoga postures, breathing techniques, meditation and resting pose).
Each day will be filled with yoga, Vedic rounding, knowledge talks and workshops and down time to unwind and enjoy the picturesque location of Bagus Jati Resort, Ubud.
Your Hosts,

Tom Cronin and Joey HurL
All attendees, whether you are new to these retreats or not, will return home:
Clearer

More in love with yourself

Rejuvenated and recharged

More blissful

More aligned with your purpose than ever before

Your spirit will feel alive and connected and ready to take on the new year
Retreat Package Includes:
5 nights stay at Bagus Jati in Private Villa
Gift bag on arrival
Daily meditation, yoga and coaching sessions
All healthy nourishing meals
2 x Balinese Massage Treatments in Spa Centre
Access to Daily Activities at the retreat centre
Access to the health and well-being facilities (Pool, Gym, Hot Jacuzzi and Herbal steam bathroom in Spa pavilion)
Daily plate of tropical fruit
Return Airport transfers
ACCOMODATION
Bagus Jati resort is set in 5 hectares of hillside gardens amongst lush tropical forests in the mountains near Ubud, Bali. All accommodation provides the true spirit and grace of Asian inspired traditional healing.
The resort was planned to provide sufficient space between villas for absolute privacy, and in a circular style based on the early primitive village dwellings, combined with the chakra principle concerning energy flow.
Each private villa has stunning views from your balcony of the lush tropical valley, and a spacious Bali designed interior. You will recieve a daily supply of locally grown fruit to your room and fresh clean drinking water. This will be your sanctuary of bliss during your stay.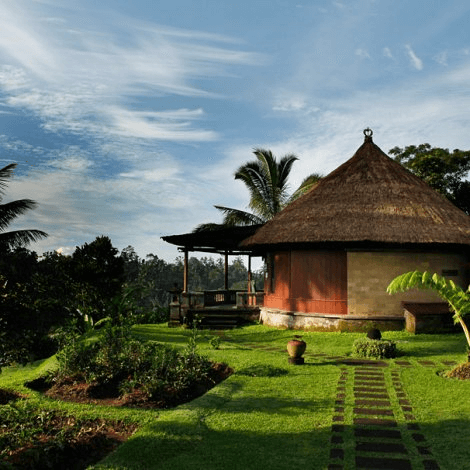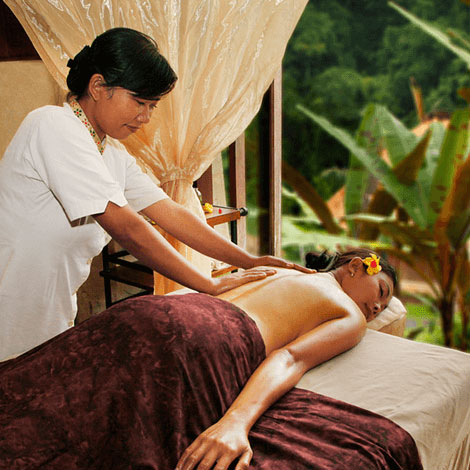 This is what others have had to say about their experience on previous retreats:
"10/10! I have had some spectacular and spiritual experiences in my 43 years on this planet but so far none has initiated the lasting, life-enhancing, goose-bumping change and connections like the retreat led by the awesome and inspirational Tom Cronin" - LR
"10/10! The retreat wasn't like anything I have ever done. I came out feeling like I have made one of the most valuable investments of my life in myself and my future." - KC
"10/10! Amazing and uplifting." - KG
"10/10! Life changing." - DW
"10/10! A truly beautiful recalibration of life." - KR
"10/10! Revitalising & out of this world. Blown away." - OS
"10/10! An amazing experience." - JF
"10/10! I had a transformative experience which I will forever be grateful for." - CG
"10/10! Magical, surreal and amazing." - JK
"10/10! The post-retreat effects are amazing! I am so grateful to Tom and the process. It is so subtle, yet so powerful." - TJ
"10/10! Exactly what I needed! There was depth, support, rest, connection and transformation…amazing." - SN
"10/10! Transformative, Confronting, life-changing, powerful" - LN
"10/10! Life-changing!" - ES
"10/10! Eye-opening, life-changing" - RG
DETAILS
WHEN: TBC 2023
WHERE: Bagus Jati Resort, Ubud, Bali
Register your interest now!